My five year old daughter has always had a strong love of books. We have that in common, her and I. So when she recently started to take an interest in my work, we decided to look into some age appropriate books on the subject. From fiction, to biographies and fun instructional texts, here are some of our favorites photography related books.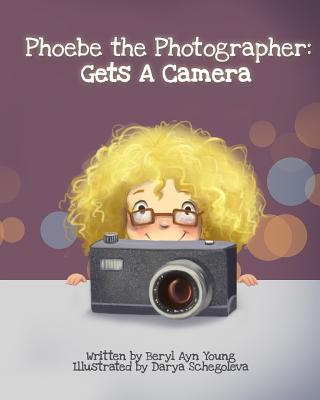 Phoebe the Photographer: Gets A Camera
About to round the corner to her 5th birthday, Phoebe wants nothing more than a special super hero costume. When the big day arrives, however, something else is there to surprise her. Phoebe's not thrilled with what awaits her, and has to discover that being a super hero comes not from a costume, but from the powers that lie within her heart.
Join Trish and her dad as they spend a day taking pictures of fall for her school project. Be a tree, kite, and pumpkin. Discover fall, explore movement, and then do your own photography project
This yoga storybook for ages 2 to 5 includes a list of kids yoga poses and a parent-teacher guide, to get the most out of your experience of yoga stories with young children.
Antsy Ansel: Ansel Adams, A Life In Nature
You may be familiar with Adams's iconic black-and-white nature photographs. But do you know about the artist who created these images? As a child, Ansel Adams just couldn't sit still. He felt trapped indoors and never walked anywhere--he ran. Even when he sat, his feet danced. But in nature, Ansel felt right at home. He fell in love with the gusting gales of the Golden Gate, the quiet whisper of Lobos Creek, the icy white of Yosemite Valley, and countless other remarkable natural sights. Antsy Ansel chronicles a restless boy's path to becoming an iconic nature photographer.
Dorothea's Eyes: Dorothea Lange Photographs the Truth
After a childhood bout of polio left her with a limp, all Dorothea Lange wanted to do was disappear. But this desire not to be seen helped her learn how to blend into the background and observe others acutely. With a passion for the artistic life, and in spite of her family's disapproval, Dorothea pursued her dream to become a photographer and focused her lens on the previously unseen victims of the Great Depression. This poetic biography tells the emotional story of Lange's evolution as one of the founders of documentary photography. It includes a gallery of Lange's photographs, and an author's note, timeline, and bibliography.
Gordon Parks: How the Photographer Captured Black and White America
His white teacher tells her all-black class, You'll all wind up porters and waiters. What did she know? Gordon Parks is most famous for being the first black director in Hollywood. But before he made movies and wrote books, he was a poor African American looking for work. When he bought a camera, his life changed forever. He taught himself how to take pictures and before long, people noticed. His success as a fashion photographer landed him a job working for the government. In Washington DC, Gordon went looking for a subject, but what he found was segregation. He and others were treated differently because of the color of their skin. Gordon wanted to take a stand against the racism he observed. With his camera in hand, he found a way. This is the story of how, with a single photograph, a self-taught artist got America to take notice.
Photo Adventures For Kids: Solving The Mysteries of Taking Great Photos
With Photo Adventures for Kids, you can encourage your child's passion while exploring the art of photography together. Packed with games, strategies, lessons, and challenges, Photo Adventures for Kids makes learning about photographic composition and framing easy and fun. The mission is to find great photographs anywhere and everywhere. Hurry Adventure awaits.
If you're local to Lehigh Valley, PA, we recommend picking these up from our favorite independent book store, Let's Play Books in Emmaus (if you're not local, they ship!) or, your favorite indie book store in your home town. Happy reading!